Let your body speak through you!
Kinesiology, used in the complementary health or natural medicine field, is defined primarily as the use of muscle testing to identify imbalances in the body's structural, chemical, emotional or other energy. It can establish the body's priority healing needs, and can evaluate energy changes brought about by a broad spectrum of both manual and non-manual therapeutic procedures.
Kinesiology, originally derived from the work of Dr. George Goodheart D.C., has become a popular tool in the health industry. Particularly in the complimentary and natural health fields, ir is used as a way of assessing function and subsequent imbalances in the human mind/body complex. Muscle testing has been refined and is used to test structural, chemical, emotional and toxicity imbalances in the client.
The basics of Kinesiology is the muscle/organ relationships and the interaction of neural sensors, lymphatic reflexes, acupuncture meridians and circulatory factors and emotional states, among other things. Through muscle testing a state of imbalance can be assessed and corrected.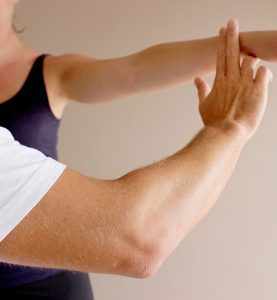 Kinesiology assesses this innate intelligence to help the practitioner assess whatever energy blockages may be presented, whether in the nervous or acupuncture systems, or any other of the regulatory mechanisms of the body. This often occurs at a subconscious level. The answers are always somewhere inside you.
Professionally applied, Kinesiology practice is being seen as one of the new frontier tools of Natural Medicine, and is being seen as a communication tool which can help you communicate better with yourself and others on a whole new level.
Looking for a professional kinesiology therapist in Burleigh Heads, Gold Coast? Visit the Empowering Wellness Centre for safe & effective kinesiology therapy.